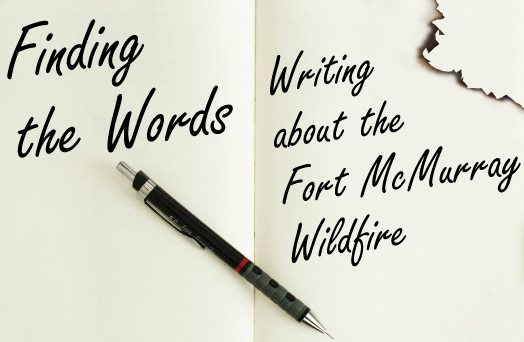 Join us Saturday, April 6, from 9:30 a.m. to 12:30 p.m. in the Syncrude Program Room at the Wood Buffalo Regional Library for a free workshop: Finding the Words: Writing about the Fort McMurray Wildfire.
This workshop provides practical tips and inspiration to help you commit to your writing in a judgement-free environment. Whether you've been writing for years or just getting started, this workshop will improve your skills, increase your confidence, and help you be a more effective writer. This hands-on session will help you find time for writing in your busy life, organize material, describe experiences with vivid imagery, and recreate dialogue.
Created for those who want to write their story of the Fort McMurray Wildfire of May 3, 2016, the workshop will help any new writer navigate the first steps in the writing process, whether the goal is preserving your family's story, sharing insights, expressing thanks, gaining perspective, or getting published.
About the Presenter
Therese Greenwood's memoir of the Fort McMurray wildfire, What You Take With You: Wildfire, Family and the Road Home [Amazon], is being published in March by the University of Alberta Press. Therese has worked as a reporter, editor, and CBC Radio correspondent. Her feature stories and columns have appeared in publications from the Globe and Mail to Queen's Quarterly to Cottage Life. She has a Master's degree in journalism. Her crime fiction has appeared across Canada and in the U.S. in such publications as the Crime Writers of Canada's Over the Edge anthology and Ellery Queen Mystery Magazine. She has twice been short-listed for the Arthur Ellis Award, Canada's top mystery writing prize, and has co-edited two crime fiction anthologies. In 2018, Calgary-based publisher Coffin Hop issued Kill As You Go, a collection of her short crime fiction. She is also online @WolfeIslander on Facebook and on Twitter.
Our Supporters